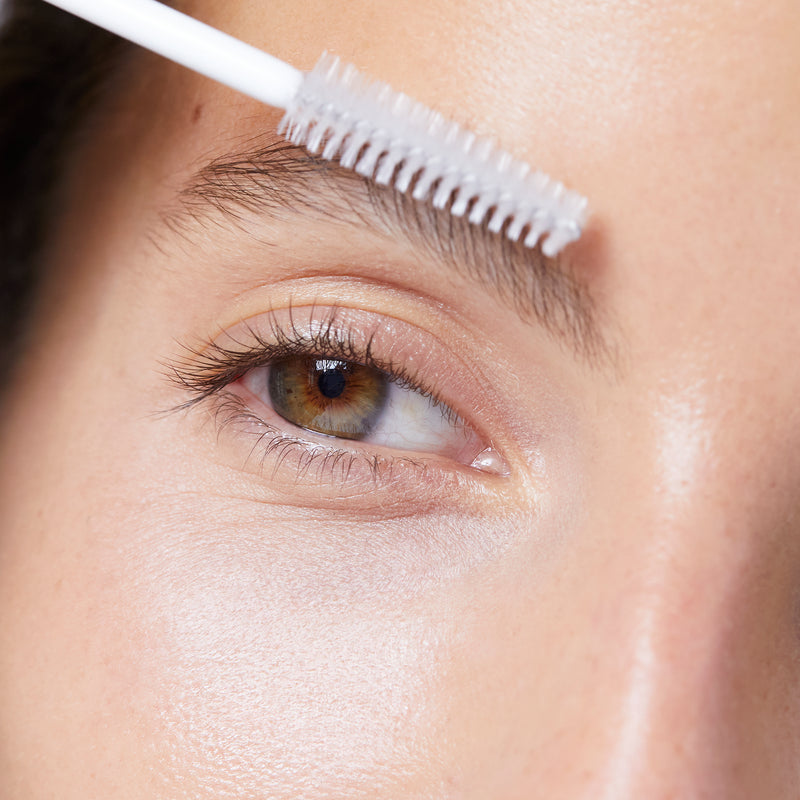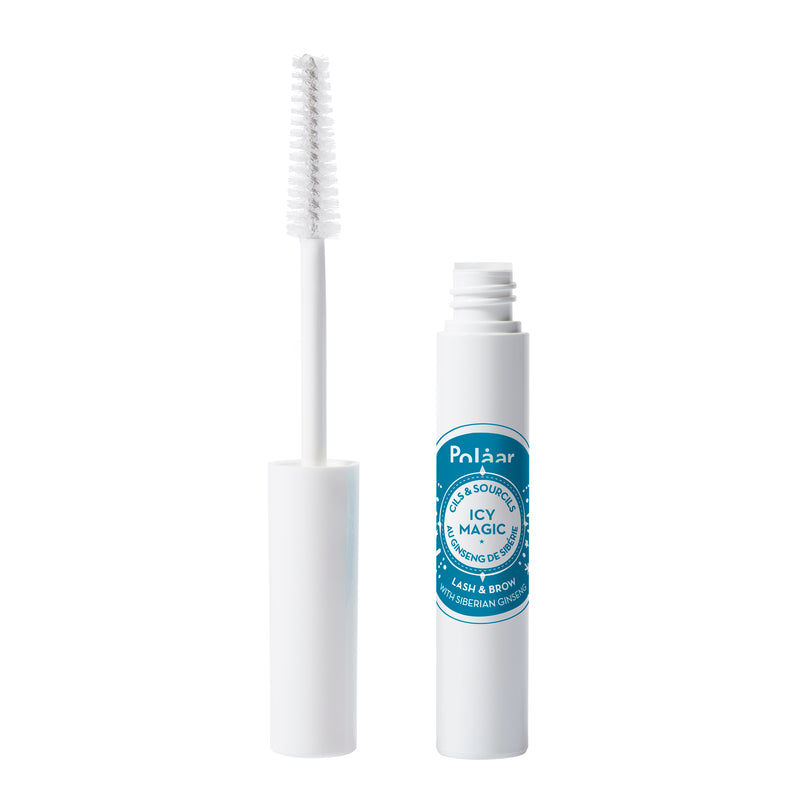 Icy Magic Lashes & Brows
Unveil hypnotic eyes in the blink of an eye with this invisible lash and brow serum that has more than one trick up its sleeve! Its natural formula combines the revitalizing, repairing power of Siberian Ginseng with fortifying, growth-boosting active ingredients. Lashes and eyebrows gain in length, volume and strength for an intense, magnified look. Proven results after just 4 weeks (in vitro test on active ingredients).
25€ home delivery 🇺🇸 Free delivery for orders over €150
Complete your routine
Benefits
Ingredients
Usage
Sorting instruction
A complete treatment for eyelashes and eyebrows:
- colorless, fragrance-free
*in vitro tests on active ingredient - results after 8 weeks
This invisible serum treatment, delivered by a mascara brush, enables precise treatment of lashes and brows for complete action. Lashes and eyebrows are denser, thicker and longer, for a magnified look. Tested and approved*! :
- Lashes appear longer: 73
- Lashes and eyebrows appear denser: 70% Less drooping: 91
- Less fallout: 91
* self-assessment on active ingredient, results after 4 weeks of use
What they think
100%
find it easy to apply
100%
have a sublimated look
100%
have stronger eyelashes and eyebrows (less drooping)
*Self-evaluation test with 11 members of our Instagram community, used for 4 weeks.
The active ingredients
Siberian ginseng
Energizing and restorative properties
Restores tone and vitality
Siberian Ginseng, discovered during a polar expedition, is one of the treasures of the Arctic landscape. To survive the extreme cold of this hostile environment, this plant has become gorged with antioxidants and flavonoids.
Siberian Ginseng, with its revitalizing and repairing action, is combined in this treatment with fortifying, growth-accelerating and anti-hair loss active ingredients of proven effectiveness.
Castor oil
Increases lash and eyebrow growth, moisturizes.
Arginine & "Lash Booster" active ingredient
Amino acid known to promote hair, eyelash and eyebrow growth. Slows hair loss and increases resistance.
Tripeptide that promotes proliferation of hair bulb keratinocytes and ensures optimal hair anchorage for longer, thicker, stronger eyelashes and eyebrows.
Eyelashes and eyebrows
Very good product for lengthening and thickening eyelashes and eyebrows. I use it morning and evening.
I'm divided
This eyelash serum is easy to apply. No reaction despite my sensitive eyes, so that's very good news. After several weeks of using the product morning and night, however, I can't see any major transformation in the length of my lashes, apart from perhaps the impression that they're stronger and less fragile. However, I have noticed that my eyebrows, on which I also apply the serum, grow much faster.
Sawtooth efficiency
This product is so easy to use that you don't care how much you put on. It's very easy to apply and invisible. You don't realize how much you're applying, but I love the texture: invisible... I've been using it for over a month now, and it quickly becomes part of my evening routine. I'd just have liked more details and advice on application, because I think that on lashes, you have to apply it like a mascara, with a bit of pressure, because the brush is hard and you have to press a bit for the product to penetrate (or else it's just an impression). But I felt a visible result on the resistance of my lashes but not too much on the length. I regret this a little because that was the main purpose of using this product... So even if I didn't notice any impact on length, I can easily say that it strengthened them. As for my eyebrows, which I already found thin and lacking in thickness, I did notice a real change after 3 weeks of use. I love the Polaar brand, which offers really high-quality products that have always had a positive effect on my skin. And here, trying a product for my eyelashes and eyebrows was top for me. I told myself that this was a brand I already trusted... well, in short, I really don't regret this product at all, because my look has really changed, with eyebrows that are really more defined and lashes that are more resistant over time. I just think that the instructions should really specify that you should insist on applying the product to your lashes, because the comb is really hard, and that's why I'm going to continue using it, applying the product insistently to my lashes, you never know. I'm won over by this brand and the ingredients used. The.product remains fluid and transparent, odorless and therefore easy to apply, good
Perfect
I've just received it, so I'll see in a while, but for now it matches the description.
Frequently asked questions