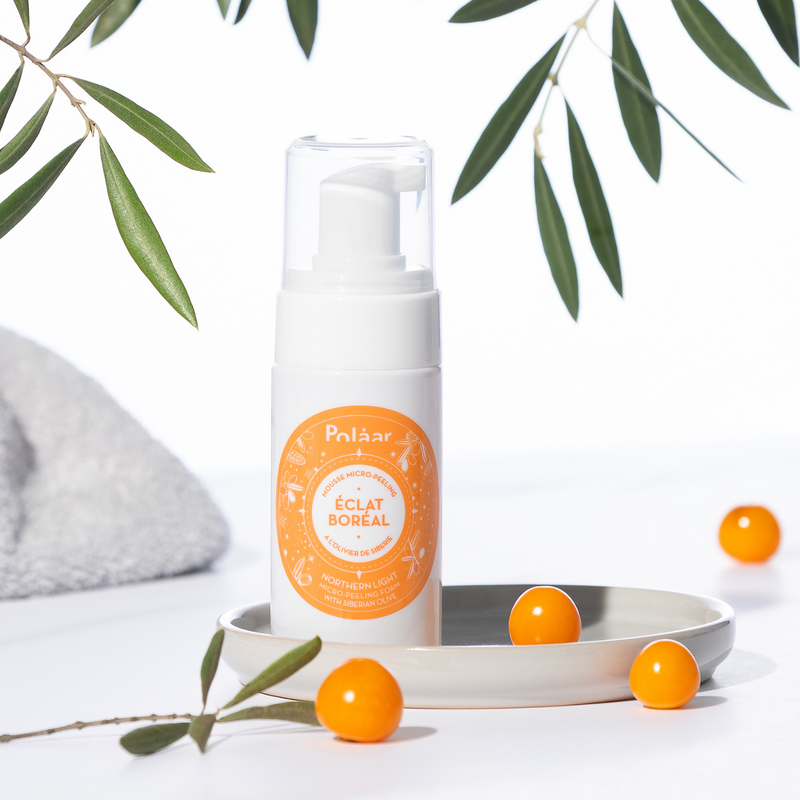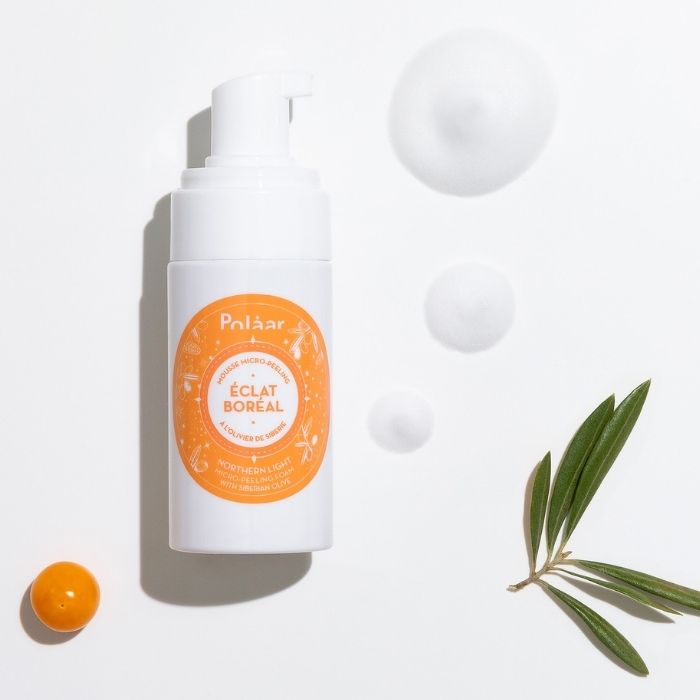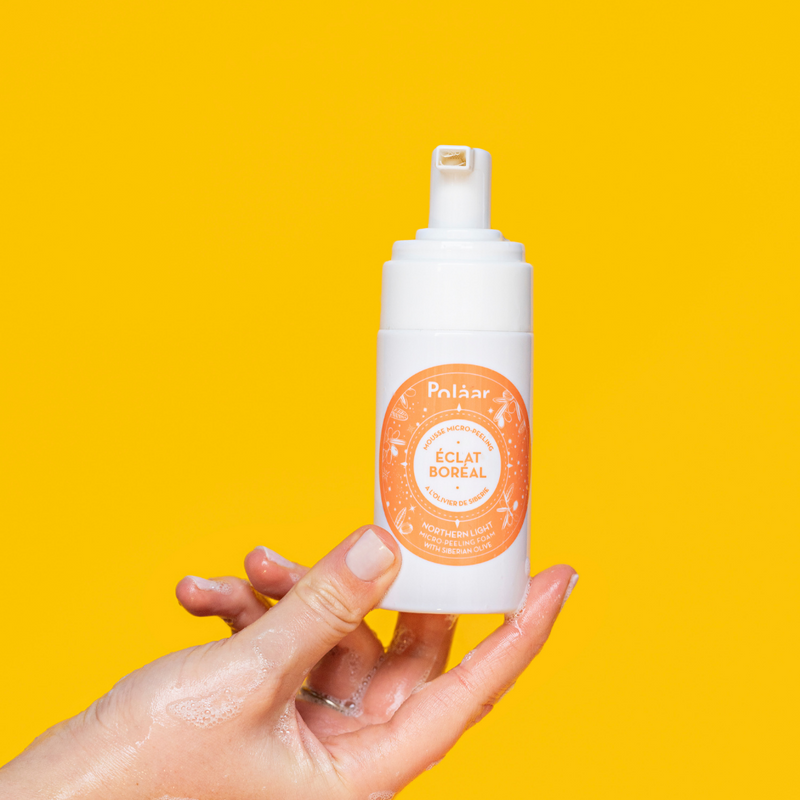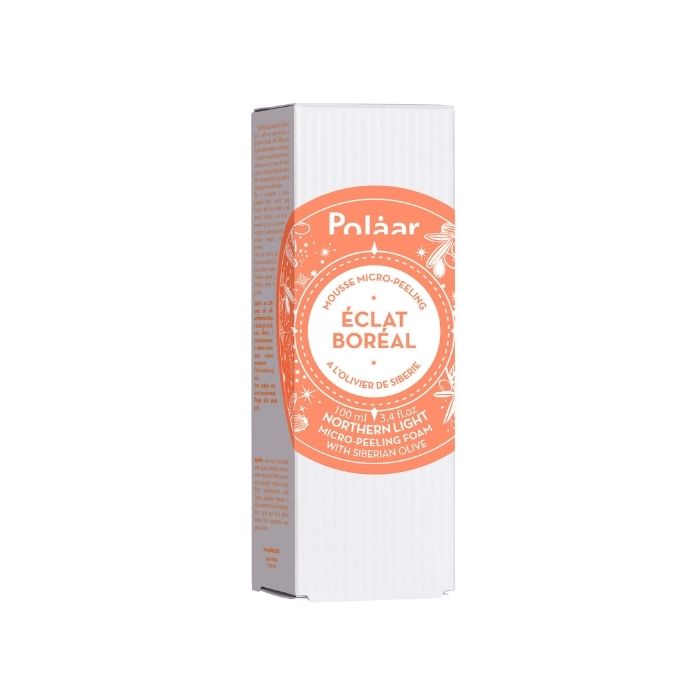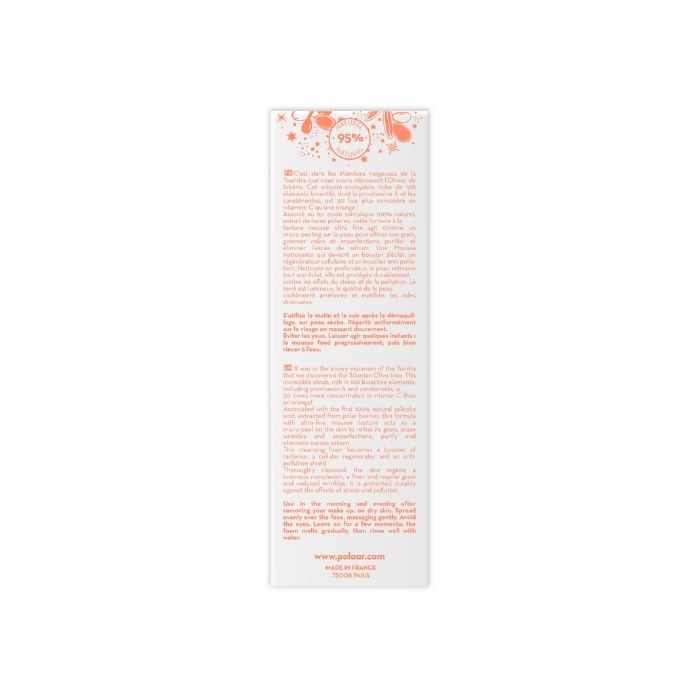 Northern Light Micro-Peeling Foam
A deliciously scented, airy foam that reveals a new skin texture and radiant complexion in just 30 seconds! This cleanser, with its unique concentration of vitamin C and 100% natural salicylic acid, is a genuine beauty treatment whose precious active ingredients cleanse, refine and regenerate skin texture day after day.
25€ home delivery 🇺🇸 Free delivery for orders over €150
Complete your routine
Benefits
Ingredients
Usage
Sorting instruction
Reveal a radiant complexion in just 30 seconds!
cleanses and refines skin texture
protects the skin from external aggression
illuminates the complexion
texture: airy, exfoliating
refreshing citrus fragrance
Rich in Siberian Olive (vitamin C concentrate) and 100% natural salicylic acid, it is a genuine beauty treatment whose precious active ingredients cleanse and refine skin texture day after day. A keratolytic action that resurfaces and exfoliates the skin, and tightens pores. Its anti-pollution active ingredient acts like an invisible mask to prevent all fine particles from entering the skin's pores. It exfoliates, purifies and eliminates excess sebum. The skin is thus freed from impurities and pollution particles accumulated during the day, ready to receive day and night treatments.
What they think
80%
feel their skin is smoother
80%
see their complexion brighter
80%
refined skin texture and tightened pores
60%
are completely hooked
100%
would recommend this product to a friend
* Self-evaluation test with customers
The active ingredients
reduces wrinkles and fine lines
It was in the heart of the Taiga, while searching for an active ingredient capable of protecting the skin of cosmonauts, that Russian scientists discovered the powers ofSiberian Olive : the best-kept secret of the former USSR! This little berry, bursting with over 108 bio-active elements, has an unrivalled concentration of vitamins A, C and E and antioxidants, giving it exceptional properties for radiance and cell regeneration.
Salycilic acid
Native to Canada, this evergreen sub-shrub grows in forests, undergrowth and clearings across North America.
Refines skin texture (keratolytic, anti-microbial and anti-inflammatory activity)
Purifies skin (eliminates excess sebum and erases imperfections)
Anti-aging (reduces wrinkles, smoothes skin and reveals a radiant complexion)
Anti-Pollution Shield (Seaweed extracts)
Traps impurities to prevent them from penetrating the epidermis
Protects and preserves cells from external aggression
Love love love
Loving your products! My skin looks and feels so much healthier since I started.
Not suitable
Unfortunately, these products are not suitable for my skin.
Highly effective
I really like the results of this mousse, after 1 month's use and combined with the smoothing cream from the same range, I've really noticed a reduction in visible pores and a brighter complexion. On the other hand, I don't really like the mousse texture, and my adult acne is still there. Maybe a little less, but it's not miraculous either.
Illuminated complexion, no pimples, very pleasant foam.
I validate this top product
Frequently asked questions