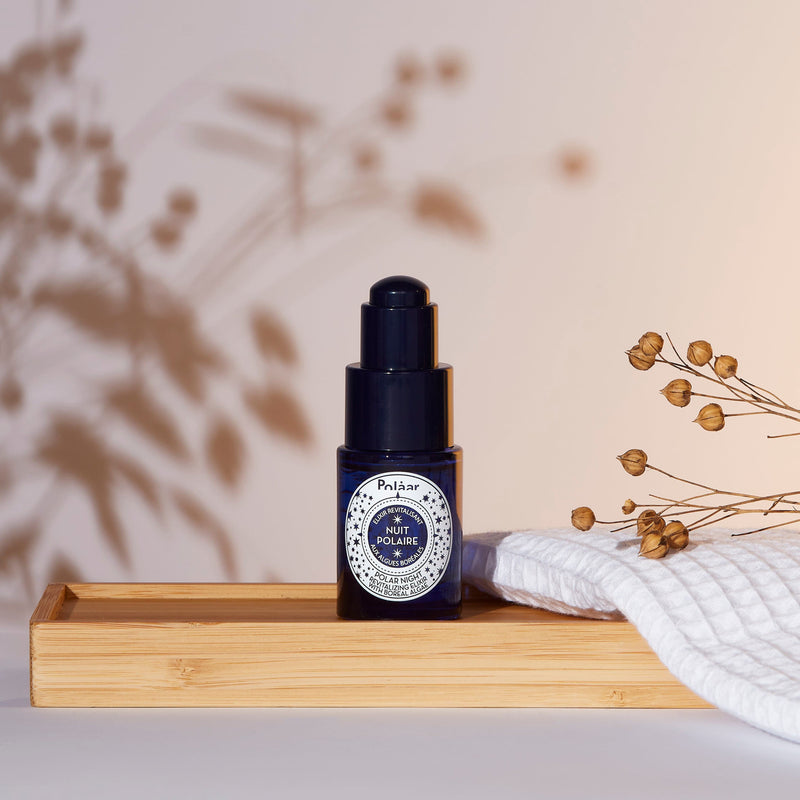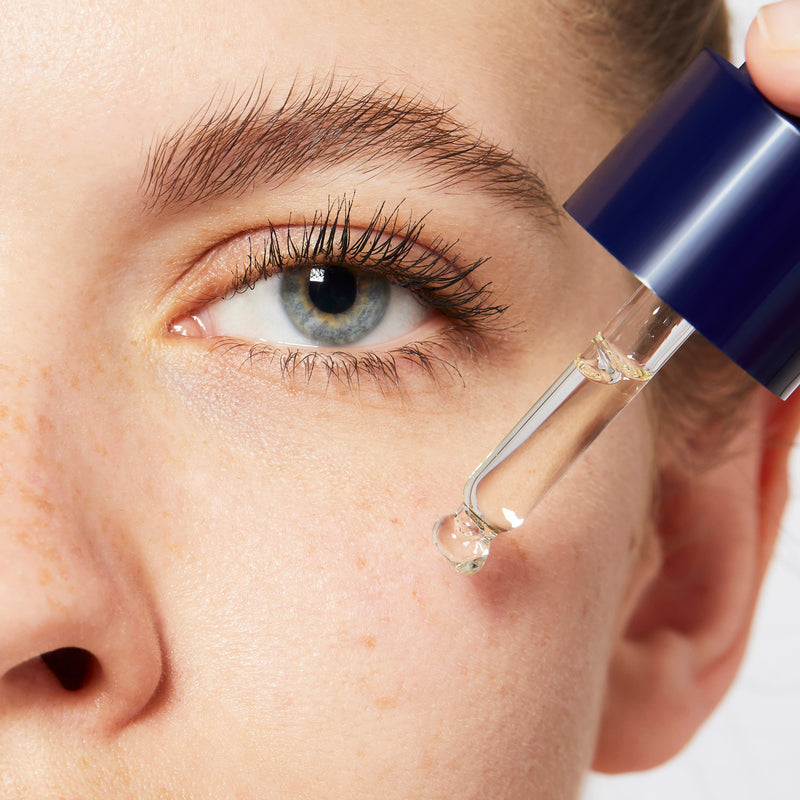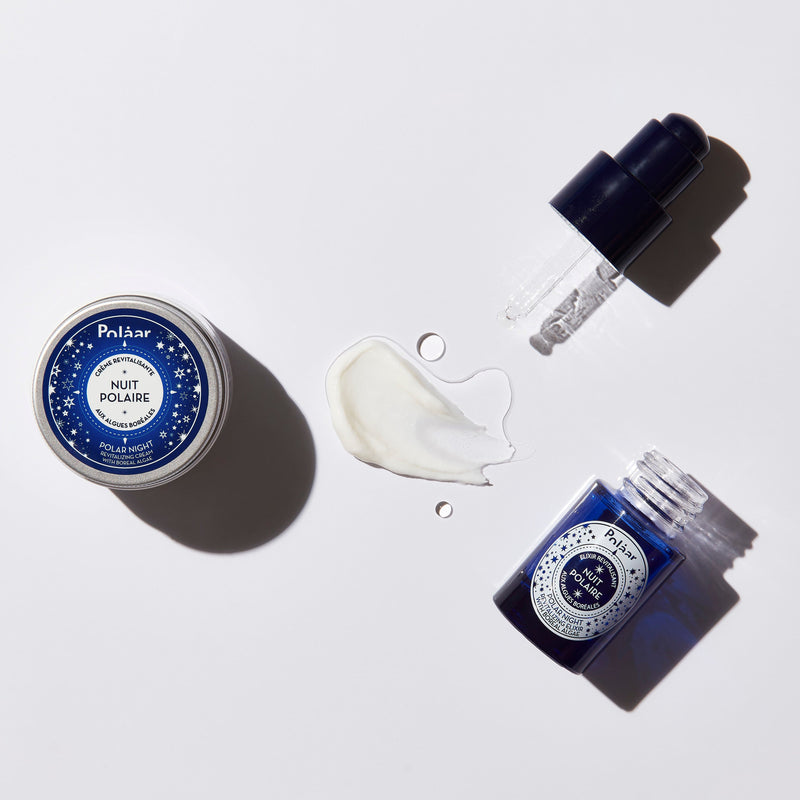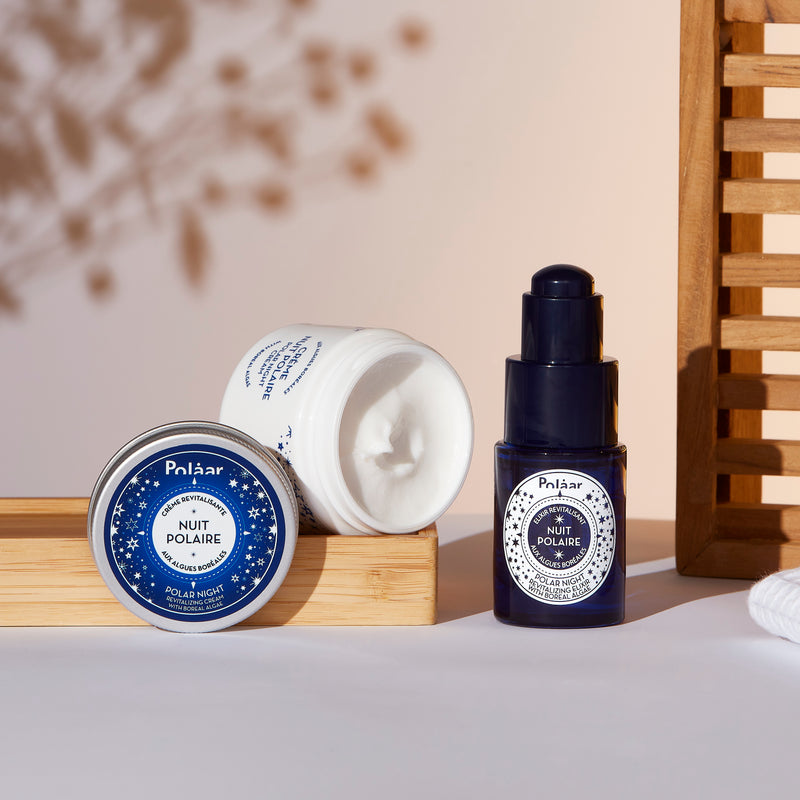 Polar Night Revitalizing Elixir
Is your skin lacking vitality and showing signs of aging? Help it regenerate with Polar Night Revitalizing Elixir. This exceptional treatment, formulated with Boreal Algae rich in phytomelatonin, boosts nocturnal cell regeneration to reduce wrinkles, fine lines and signs of fatigue while you sleep!
25€ home delivery 🇺🇸 Free delivery for orders over €150
Complete your routine
Benefits
Ingredients
Usage
Sorting instruction
Skin is detoxified, regenerated and smoothed!
activates cell regeneration
reduces fine lines and wrinkles
illuminates the complexion
plumped, younger-looking skin
texture: moisturizing and nourishing dry oil with no greasy feel
a lightly powdery fragrance, addictive and enchanting for the senses
The incredible benefits of polar active ingredients are transmitted to you in this dry oil, which penetrates without any greasy effect and leaves the skin soft and comfortable. It's the ideal treatment for tired, stressed and devitalized skin. With 99% ingredients of natural origin, this serum with its addictive fragrance regenerates, revitalizes and illuminates skin in need of radiance in a single step. When you wake up in the morning, your skin is radiant, plumped and visibly younger-looking.
The active ingredients
stimulates cutaneous microcirculation
eliminates accumulated toxins
repairs damage to the skin
Rhodimenia Boréalia, a boreal algae that lives in the depths of the Arctic Ocean, where light is scarce. Its superpower? Its ability to synthesize high levels of phytomelatonin - the plant version of melatonin - which is responsible for nocturnal cell regeneration.
It also helps restore the skin's chronobiology, disrupted by the effects of seasonal changes, jet-lag and sleep deprivation. Its decongestant, soothing and revitalizing properties support the fundamental mechanisms of nocturnal cell regeneration.
Criste Marine Bio
Rich in minerals, this seaside plant contributes to cell regeneration and nourishes the skin's vital functions.
Organic red micro algae
Rich in beta-carotene, it protects against dehydration and helps regenerate the upper layers of the epidermis. Thanks to its fatty acids, this algae restores suppleness to the skin.
Polar Night Elixir
This elixir has an immediate revitalizing effect on the skin, but is not very comfortable to use as it does not immediately assimilate into the skin.
Love them!!!
My very delicate skin loves this brand! I have tried different products and I am happy with all of them. They are now fundamental part of my skin care routine.
Satisfied but ...
The product suits me and does what it's supposed to do, I just find that the pipette used to take it out of the bottle isn't very effective, the product runs out before you press down to use it, which is a shame. I really like the discreet but pleasant scent of this range.
Frequently asked questions